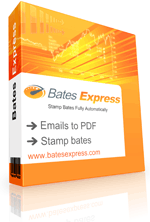 Bates Express is a software tool intended for stamping bates onto emails, PDF, DOC, HTML, EXCEL, TIFF, JPEG files. It is great for corporate clients and lawyers who have to stamp bates, add labels and attach reference numbers to documents on a daily basis. This program saves you the lengthy routine manual work and therefore eases the work significantly.
Windows 95/98/NT/ME/2000/XP/Vista/7/8

How to install Bates Express - step-by-step guide.
Learn how to apply bates automatically. Tutorial with screenshots.
The tool has a simple and easy-to-follow user interface. In order to add bates to a PDF or TIFF file, run the utility and click Actions in the upper left corner of the interface. By clicking Add File button, you will specify the files you are going to stamp. There is an extensive array of stamp layout options, which include suffixes, prefixes, number of digits, start number, bates number placement, font color, font size, and many other options.

Registered users will receive updates and technical support on a regular basis.
How It Works
Bates Express is shareware. You can purchase the program right now or download the free trial version. If you would like to purchase the program, click
Buy Now
, select your preferred payment option and get the key by email.
Stamp Bates How To's
How to Stamp Bates to Emails in Batch. Forget about expensive Adobe programs. Learn the easiest way to apply bates.
Stamp Bates Automatically. Stamping bates used to be a manual routine. Today, we use special software to do all the routine jobs. Learn how to automate bates stamping.